First of all thanks for a plenty bunch of comments, sweetie darlings! I was also really excited to run into Pelle Miljoona, and I'm glad you liked the pics too. I wanna especially mention to E.Birdie, that it really was a pity you missed the bun-sale, and I hope you'll find us next Sunday next to the karaoke in the amfi theater! Would be nice to meet you. :)
I've been trying to think of a kick-ass
halloween costume
, and it inspired me to dig out some old costume party pictures from the years back. If you haven't noticed I'm all about theme-parties, and luckily so are my old classmates from fashion design, and pretty much most of my other friends too. I'm going to Finland for a quick visit soon, and hopefully I'll be seeing some of these babies there!
Some themes that have inspired us to dress up:
Tacky and tasteless
This was a theme party that we threw with the fashion grad-students. In grad school we were really into testing the line between taste and tack. The theme was broad, and allowed you to choose from young and old, different decades, and different stereotypes. I was going for a kind of trampy multitalent singer/pageant queen/tabloid wannabe. We have alot of them in Finland.
Laundry of this tacky broad:
pvc-vest - borrowed from a colleague (didn't wanna ask why she had one)
earrings - from when I was a kid and freekishly into big flashy earrings
denim stetson - H&M
Pirates
on partyqueen Jenna's birthday in nightclub Helmi, Helsinki, 2008. She really knows how to arrange parties and get people to have fun, (and that's one of the reasons I asked her to be the Mistress of ceremony for our wedding). I look pretty beaten up in this one, but that kinda goes with the theme.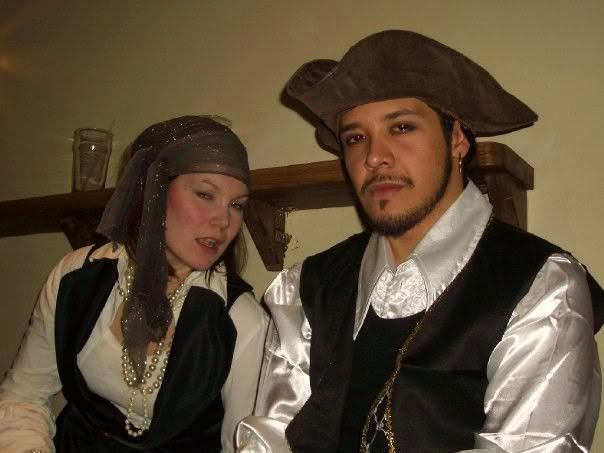 My stuff: scarf - oldie, vest - self made, shirt with puffy sleeves - somewhere in Amsterdam, belt - Motivi, scarf - H&M, baggy pants - Vila, boots - Seppälä.
Rene's stuff: outfit - Aprilli costume shop, beard - his own.
Chavs
(
Pissis
in Finnish)
This was my favorite of the crazy series of theme parties we threw with the classmates. We really developed some sort of twisted relationship with fashion and the lack of it, and we used to laugh hysterically at stupid little things. Our teacher said we had 'grouped' well.
For the chav-theme we wore tons of mascara and eye brow-pencil, cropped tops, g-strings, basically anything that shows places you don't wanna see. I folded my skirt shorter so you could see the pockets from underneath. I think that's something Mariah Carey, or someone as important used to do. I'm the one on the left, in case you don't recognize. :)
I'm afraid I can't remember half of where I got this stuff, but if you wanna get all chavvy I'd recommend shops like Fiorella in Finland and New Yorker in Berlin.

Reindeers
The horns were a gift from our friends in a "Little Christmas party for naughty children", that we arranged with Anna in 2007.
Neon

The incredible Jatta and the graceful me in Lost & Found, Helsinki on the 1st of May 2008. My "wig" is a piece of fur that I got for Loveparade 2001.
Stay tuned for part 2, and help me out with my halloween costume!! I'm swimming in 70's disco-pieces, but I don't know what to do with them! Ideas??