Some more themes from the years, that inspired us to get creative and go crazy with the accessories:

Ghetto

This
was another party with the style loving fashionistas... Here are just some pics of the ladies, I'll save you from mine. You can imagine it with a leather cap and the big lipliners again, that I mentioned in the previous post, this time made with dark brown eyeliner. I made myself a durag from a pantyhose. So that's pretty much it.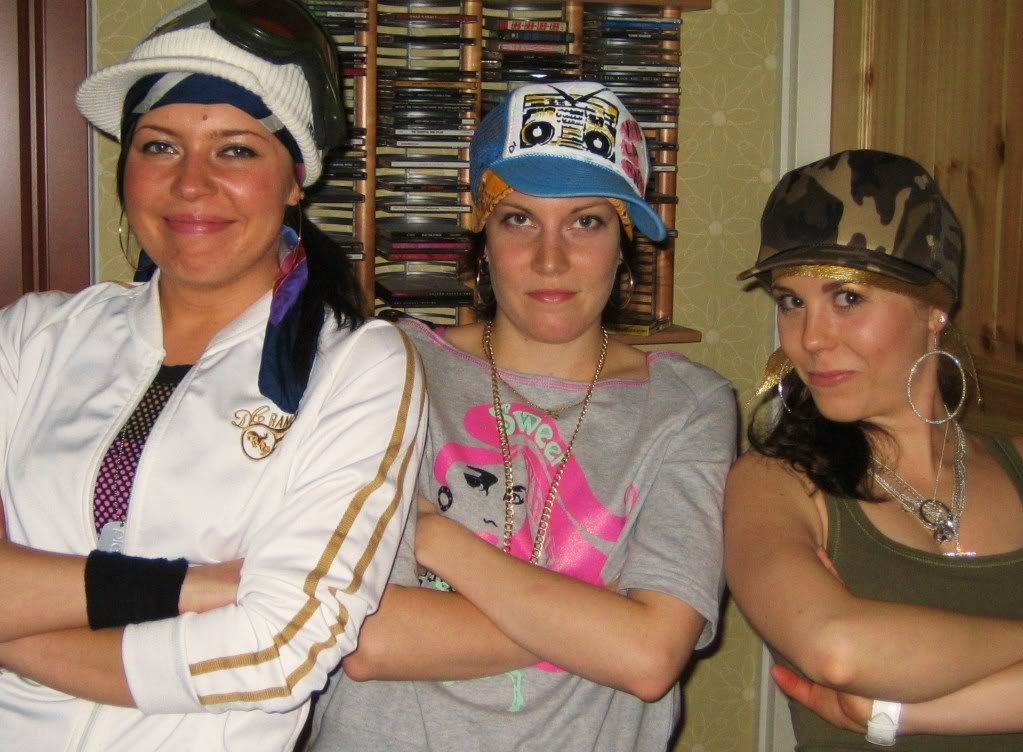 80's and 90's
- the golden years of my childhood, shoulder pads and abstract neon patterns. It's hard to put these decades into one or two outfits, 'cos it's just an endless source of inspiration.
In the first pic we're in my best friend Anniina's bachelorette party, and the theme was 80's inspired. We even made the food together with all the girls according to the theme, with little sausages and tacky childhood party snacks. We got her a bunch of pink and turqoise accessories that she got in little packages every time she did a task. She ended up looking smokin hot (and I must say we weren't too shabby either)!
Laundry: We got the satin ribbons from Stockmann, Anniina's dress from Laura's closet, her leggins from Pieces, mine from H&M, and my dress from Ginatricot.

The second one is from a 90's party. I tried a mid 90's approach with a long tee-dress and the zigzag-parting. I've come to notice I always (dispite the theme) do these really strong liplinings that go slightly over the edges. For chavs, for hillbillies, for ghetto, anything. They somehow just always go.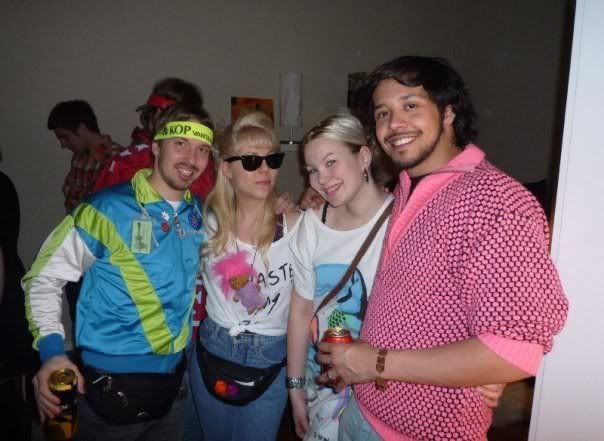 Laundry: Outi got her outfit from the fleamarket, mine and Rene's is from a vintage shop on Kopernikus strasse and my sisters old boxes in our dad's house in Vääksy.


80's Girlband on the party boat
This was a Michael Jackson inspired, weird theme, that just somehow made sense to us and made us all look like my moms friends 20 years ago. All the stuff is vintage from UFF.
Loveboat
This was one of the biggest, best group theme parties ever. We basically had a theme-weekend, and a few weeks after we were still living it in our minds. God, these people are good company! (Maybe not in the sensible meaning of the word, like how your mom would say someone is 'good' for you, who shows good example and keeps you on the right track, but just friggin awesome fun!)