I finally got the
tattoo
I've been craving for almost 3 years now. I drew the design myself and had it made by
Aaron
in Old School Tattoo, on Pettenkoferstrasse. I'd heard he was good, but he was way better. Steady handed guy, really nice fella, did the job in less than an hour and it looks just like I wanted it to. It didn't even hurt like at all! I want another one!!
There's a better pic coming up, hold your horses, keep reading nicely, and you shall be rewarded.
The weekend we spent pretty much partying. Friday night was the
1st birthday of Kippis
, the Finnish interior design-shop on Torstrasse. Mimosa, a performance artist, was serving Finlandia vodka from a Finnish glass bowl taped on top of her head. Here you go, shit loads of heavily coloured partypics with a high saturation and contrast factor: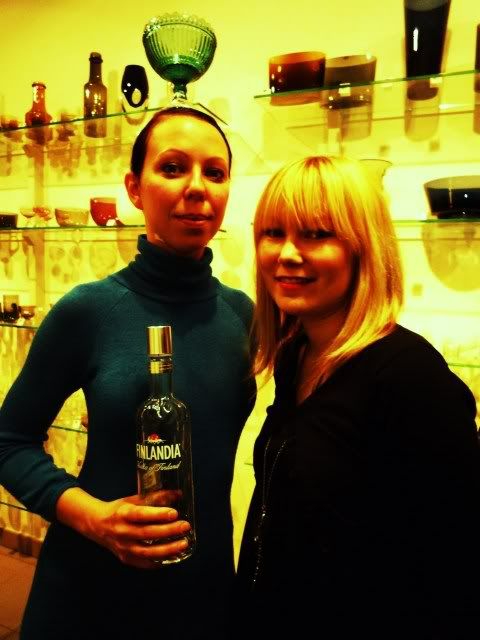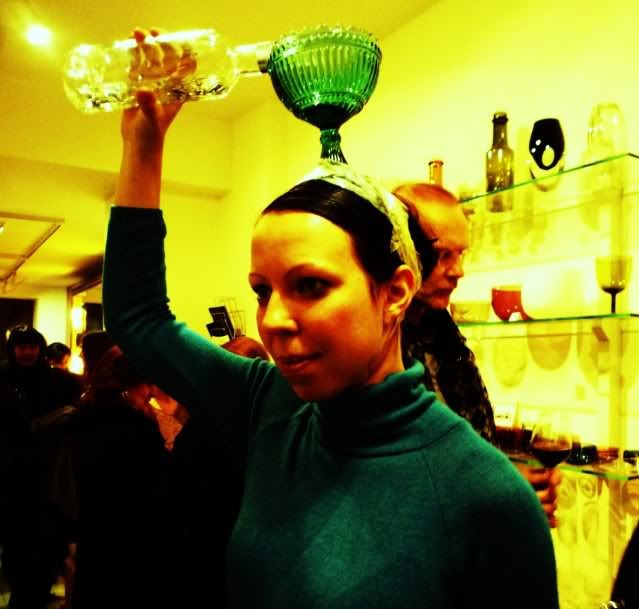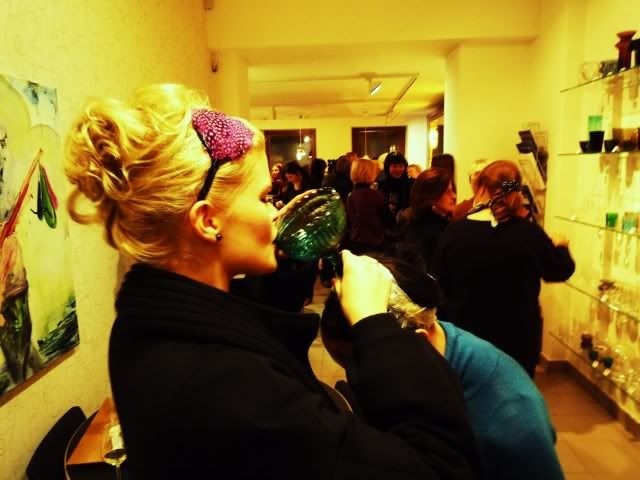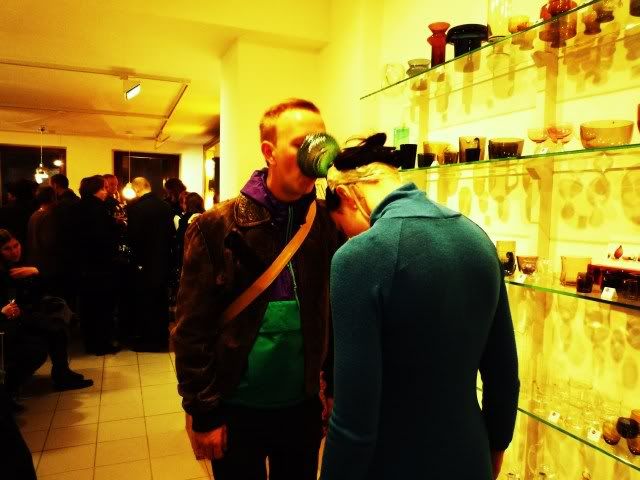 Then we went to
Ruz
on Auguststrasse, for tapas and wine with my sis and her friends.


We were all giggles!




Then across the street to Clärchens Ballhaus, the good old (100 years) balldancing joint...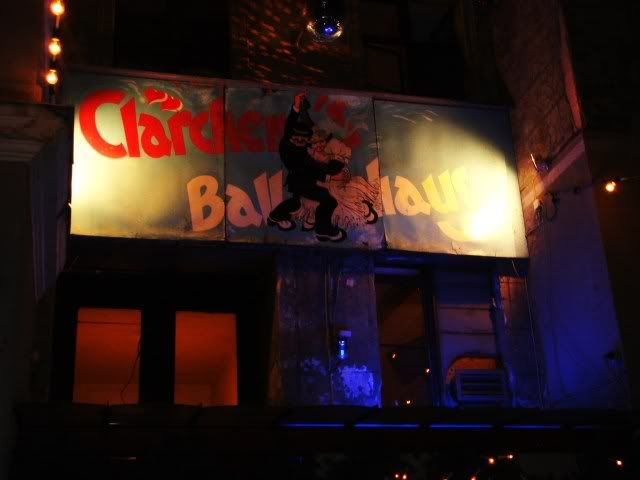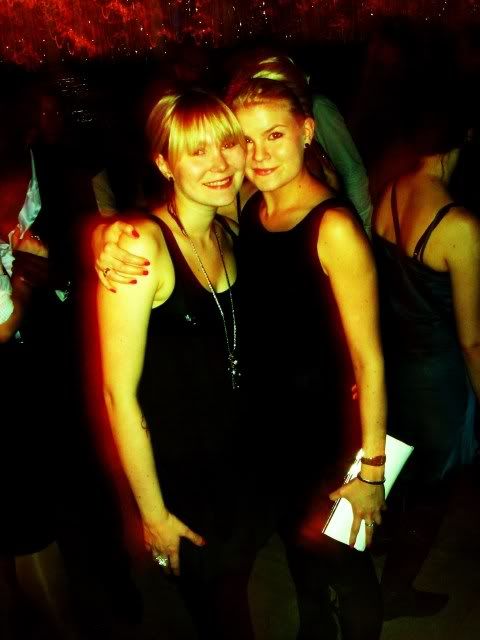 Laundry on Friday:
dress - Motivi
leggins - Ginatricot
earrings - H&M
necklaces - Six & H&M
ring - vintage from Mex


I can even tell you what Jenna was wearing, cos it was partly from me!:
dress - H&M (she bought it from me, 'cos it was just perfect on her!)
purse - a gift from me from one of the second hand shops on Oderbergerstrasse, makes me happy that she loves it!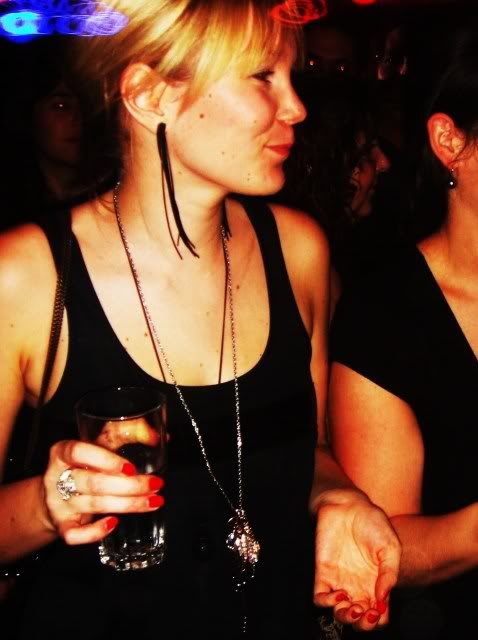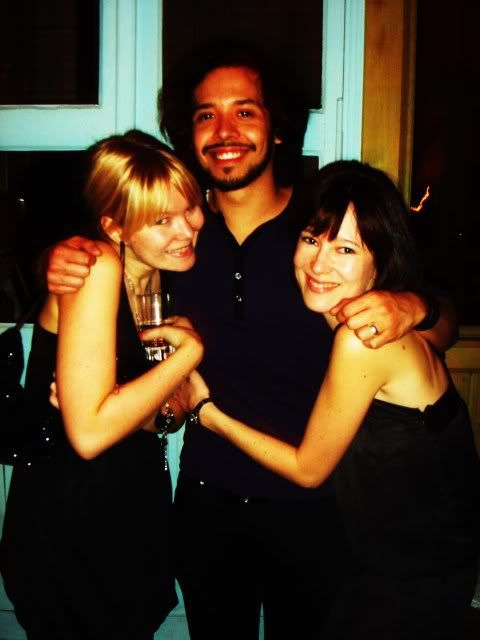 Saturday was 'dress to kill'-night at our house. We went to

Dice

, a club close to our house, where they play good music but no-one goes there
. We were totally overdressed, plus almost the only ones there. That didn't keep us from staying 'til 7 am.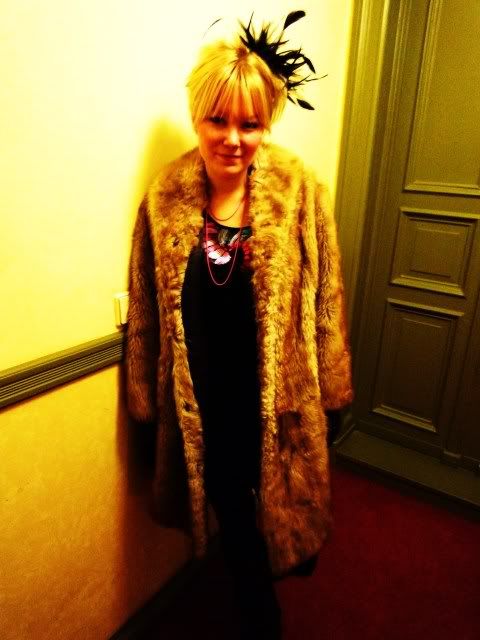 Saturday Night Laundry:
Fur coat - vintage from Colours on Bergmannstrasse
Tunique - H&M (I haven't been affording anything else lately...)
leggins - Ginatricot
gloves - Mango
Head piece - borrowed from Jenna, from Dom
Jen got the adorable tiny hat from H&M.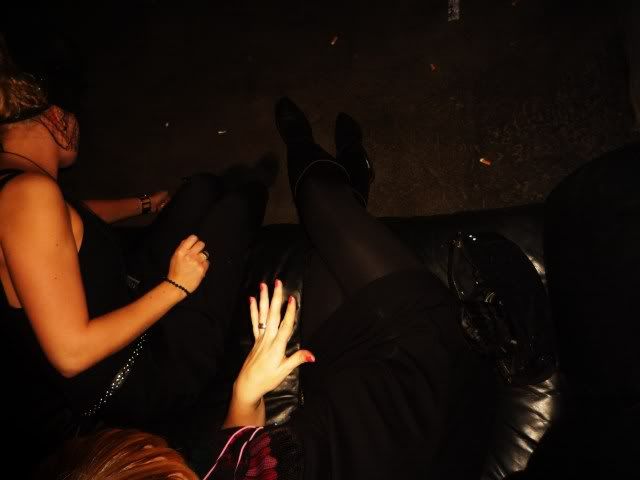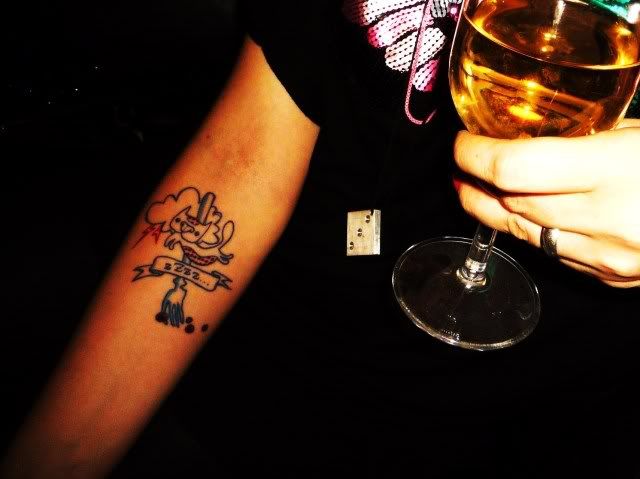 That's my new buddy!
Since you may ask, i
t represents 3 basic things. It reminds me to

eat

(peas in a fork),

sleep

(zZzz) and

play

(eagerly jumping toy cat). Relevant stuff that I should do more in life.
I wanted to make it cartoon-like and scketchy but with some traditional tattoo elements (eg. the composition and the banner). (Also it kinda looks like the toy cat gets shocked by a lightning and stabbed by a fork, which makes me giggle.) So what should I get next? :)