We're gonna have hairy tiny babies tomorrow! They're not hairy just because their dad is Mexican, or because I'm just maybe the hairiest woman alive, but because they're

guinea pigs

! Freaked you out already, didn't I? We decided around Christmas, that we're gonna start a family. Rene wanted to get a dog, but I'm not sure he understands the hassle it'll bring, and to be honest our life is not regular* enough to take care of something so dependent.

We found these two from Julia, who runs a small shelter for creatures who have lost their home. I've been checking into this whole rodent business, and apparently it's a no-no to take animals from a shop (when there are homeless ones available) and you should always have atleast 2
guinea pigs at one home, otherwise they get really lonely. I believe the wise ones, and so we turned to Julia, and these two sweethearts will be moving in with us tomorrow!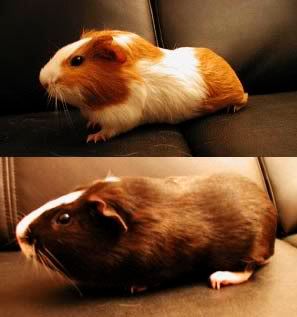 Aaaaaaaaaaaaaaaaaawwwwwwwwwwwwwwww! Girl above, boy below. (That's what she said.)





Name suggestions wanted


We're still not sure about the names... maybe you can help us choose! We've been thinking:
-

Moustache Marshal and Regina Phalange

(like Marshal's moustache growing look-alike in How I met Your Mother, and Phoebe's alias in Friends)
-

Jim and Pam
(like in The Office)
-

Jim and Dwight
(like in The Office)
-

Asko and Jenna

(like the sleek baldy and the blonde hottie you sometimes see in my pictures! This was Asko's request.)
-

Asko and Jatta

(as above, but Jatta is a brunette and reminds us of the girl guinea pig, cos it runs around like a maniac) :)))) OK, clearly the choice between these two is impossible, but just for laughs I wanted to put them here. :)
-

Cabbage and Tumor

(they just sound funny)
-

Owen and Loretta

(old-people-names also sound funny)
-

Moto Moto and Gloria

(they kinda look like the hippos in Madagascar 2, right?)
-

Paco and Pekka

(like the Mexican and Finnish "John Smith")



Please vote!

We've been back and forth so many times with these, that we decided to take our time and get to know the new-comers. So

you can vote 'til Tuesday

. They're a dude and a chick, but I'm hoping their identity won't be crushed if we call them something else.



Interior design for Guinea pigs


I've been, of course, totally
rediculously
over-the-top psyched about the animals, so I've made them some cool stuff to their new house!!! Take a look at these quilt-sleeping bags! I made them from old padded fabrics mom and I wound stored in her attic...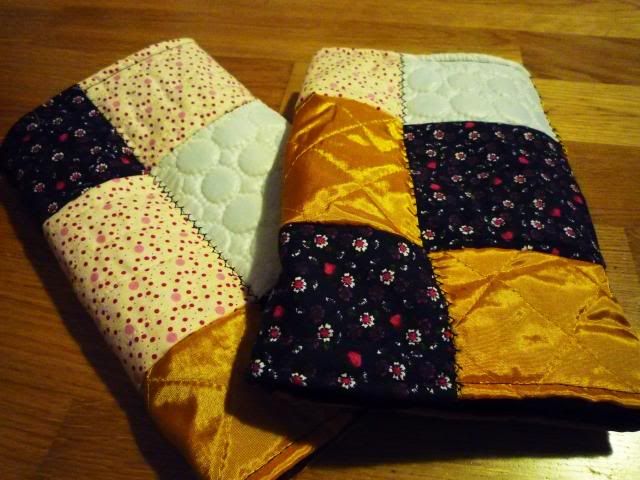 ...with a rustic Lexington-style checkered flanell lining!!! How posh is that! (Actually they were old sleeves I cut off from my flanell shirt in my grunge-era when I was 11. As a practical girl I'd saved them!)


I also built a fancy house from an old christmas present-box!


And a barn from an old Chuck's-box! (You can see a mexican ass on the background.)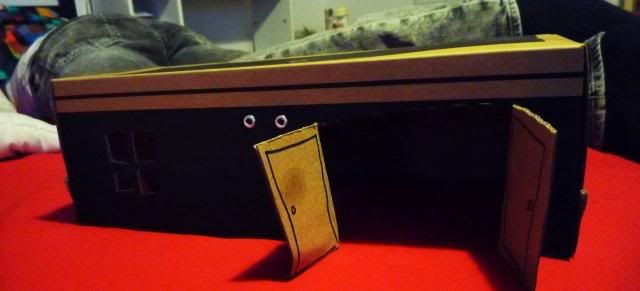 What do you think? Should I start a career as a tiny construction worker, an interior and textile designer for pets or a rodent stylist?


*)

Side note on "regular life"

: I mentioned our life is not regular enough to take care of a puppy. This whole concept of regularity is not that familiar to me. I recently found out that normal people apparently have regular lunch and dinner times. I'm 27 and I've never really known this. I've always just eaten when I'm hungry. Sometimes we'll seriously have breakfast at 4pm, because we forgot to eat. Or I might cook a meal at midnight, which doesn't have a definition. People ask me like "Have you had dinner?", and I'm like yeah I had "yoghurt around 3, is that dinner?" Maybe I should start learning this before we start getting human babies. Perhaps the guinea pigs will teach me to become a proper mother.

Remember to vote for a name, or send your own suggestion!